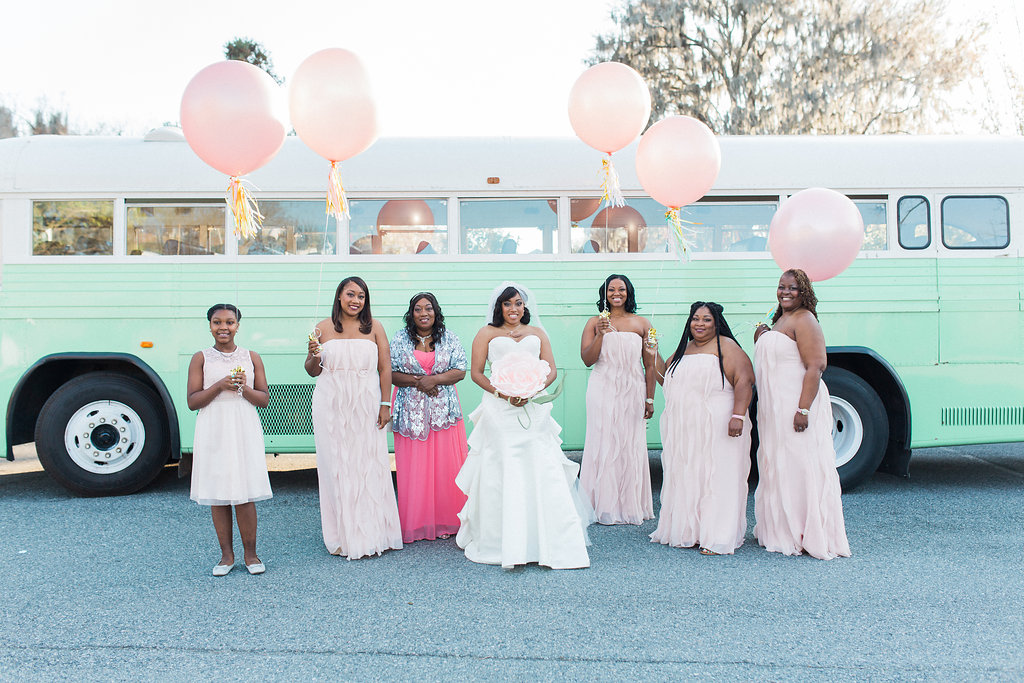 Every wedding has something special about it! The story, the details and, of course, the couple. Cassandra and Kyle's wedding day was full of unique and romantic details! Cassandra really wanted a 1955 GM bus for her wedding so we cut cost on flowers and her bridesmaids held big, beautiful balloons in shades of pink. She also had a beautiful paper flowers made for her and her bridesmaids to take pictures with. They turned out beautifully and added a fun, unique touch!
When planning a wedding, I always tell my brides to find the one thing that means the most to them. Once they've decided, we'll cut prices in other places in order to stay within the budget. At Kyle and Cassandra's wedding, we saved money at the reception by using pineapples and Magnolia leaves as centerpieces. Another fun detail that made their day unique!
The reception had a Cuban theme. Kyle has travel all of the world and sent Cassandra love letters from each location. We had the letters copied on post cards from all the different states and countries Kyle had been to and used them as table names at the reception.
Ceremony and Reception Venue: Coastal Georgia Botanical Gardens
Caterer: Barnes Catering
Cake: Publix
Dessert Table: Pretty Vintage
Chair and Table Rentals: Amazing Event Rentals
Officiant: Reverend Joe
Photographer: Germaine Largen
Transportation: Lowcountry Valet